From the start to the end, I knew that this would be a great day to remember. Everybody got great results, and everyone went home with a new spring in their step. It was the CMEA Band Festival 2009.4.25, a record day for my fellow band-mates and the school.
The bands of the East Bay Section were to be critiqued in many categories by three judges. The judge would give every band some comments, score them, and give them an overall grade. The best was Superior, then Excellent, Good, Fair, Needs Improvement, respectively. The best bands, who got Superiors from all the judges, received a "Unanimous Superior". Often, school bands came back without the honor of the US. But this year, it was different for our whole school.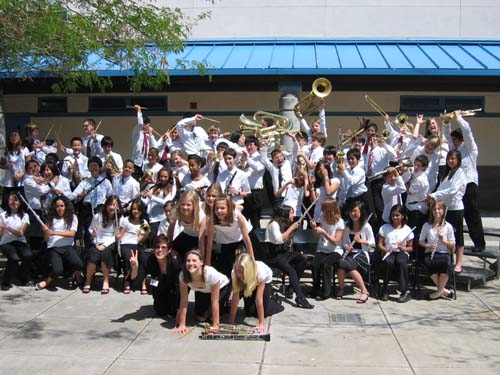 Go Band! Go Craziness! Go… after winning the "Unanimous Superior" rating
When I first got to the Festival, someone who had performed yesterday from the 8th grade band at our school came up to the 6th grade band and started screaming that they had gotten a Unanimous Superior. It was great news for us, that one of our bands had gotten this high score.
We listened to our 7th grade band play, and they did great. We knew they would all do good. Then during the break time, the scoreboard announced that they too had gotten a Unanimous Superior, which was awesome. Now, it was up to us to finish the streak as the last band of our school playing.
During warm-up, our conductor, Mrs. Zigas-Brown, gave us some pep talk and explained the procedures of the performance. She told us not to get our senses muddled by the scores, and just to do our best. Then we practiced a few bars of the music and were ready to go.
Being on the stage was a lot different than looking at the people on stage was my first thought as I went to get to my normal seat. Once on the stage, the darkened audience looked completely black, the lights almost boiled us alive, and the seats were all so big. Mrs. ZB got us started with the music, but after a couple of squeaks and wrong notes, she started seeing red. But she got better as the music progressed quite uneventfully after that.
When we finished off the pieces, everybody was nervous as some others took our picture. Once everyone finished, we ran off to see our scores.
It was a record-breaker. Never in Mrs. ZB's career had she gotten three US's in one CMEA festival. Everyone bought Superior medals and US pins. And every single person from our school that day walked off with a jingling on their chest from the medals.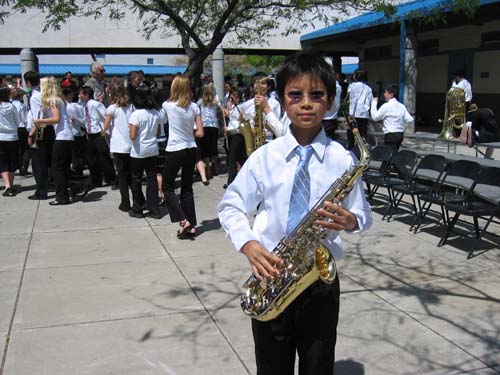 My shiny Sax after the concert.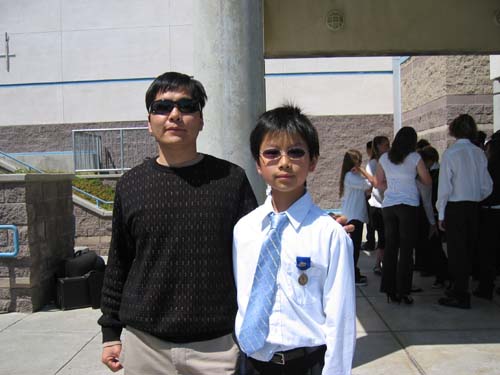 Me, My Dad, and My "Unanimous Superior" Badge!