It was made for commemoration of the Seattle World Fair in 1962. It is 500 feet tall. It's the Space Needle!
There were many ideas for the structure of the building. Some were balloons, some were wacky, some were weird, some were about the same as the one today. The first idea came from a man called Edward E. Carlson drew his interpretation of the building while drinking coffee in a coffee house! There were many spherical ideas until one person changed the ball into the UFO.
They had set the deadline for starting to build the building for June of 1990, but it passed. It then went to September, November, and finally December. Only a year and a half left!
Then they bought the land, which was hard because of the fact that many people thought that their idea was rubbish or that it would not work. But with the successes of Germany and Japan, they soon agreed. So Edward and his group bought the land for a pretty small price. But there were only 13 months until the fair!
They filled a 30 feet by 120 feet hole with cement, which was one of the largest cement filling attempts of the time. They built it quite quickly, and soon it was done, just in time for the fair.
Today, it is still a landmark, a symbol of Seattle. I loved it, and it was the thing that I was the most looking forward to. The height of the sculpture was awesome. We also bought some souvenirs in the SpaceBase, the gift shop. We also looked at the SkyCity revolving restaurant, which was both appealing and amazing. I had thought that it would be an entire moving level, but it turned out only to be a static room with a moving ring near the windows that the customers would sit. Unfortunately, we did not eat there.
To me, I think the shape is very sturdy and straight, and also flowing a beautiful. It's height amazes me, and the structure is also very detailed.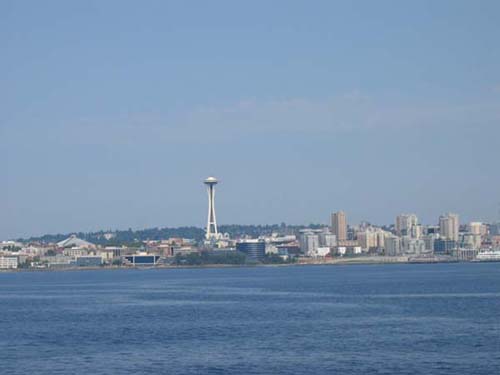 The Skyline of Seattle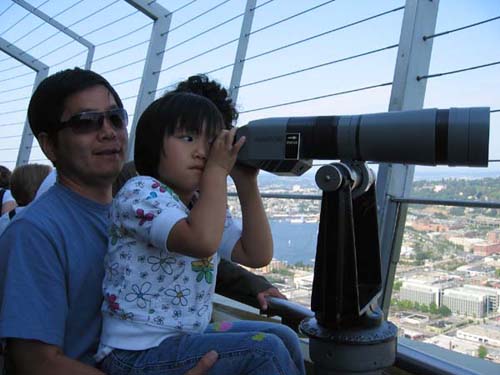 Emily looking through the telescope on the O-Deck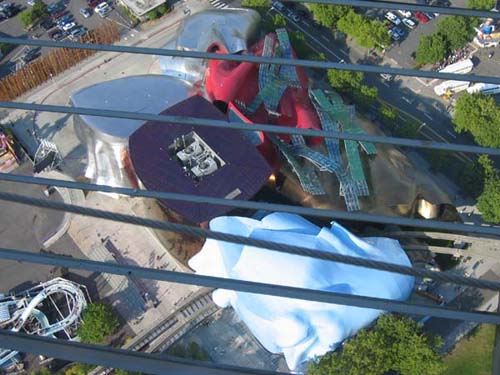 The View of the Experience Music Project from the Space Needle