A few days ago, on May 17th, we had a "Gold Rush Day", when we pretended to be prospectors, the people who were searching for a place to "strike it rich". We used bags of "gold" with numbers on them showing how much they cost to trade.
We had many different stations, such as the General Store, where we buy toys and candy using our nuggets, the Doctor's Office, when we pretend to have ailments and pay for medicine, and the saloon, where we played blackjack and bought chips and drinks. It was very amusing, and we had delicious beans (yes, beans) for lunch. I liked everything, but the fact that the Jacob's Ladders were sold out, I wasn't happy with that. In the end, we had a hoedown when we square danced. It was exciting, especially the time when Lola Montez (alias Mrs. B) fast-forwarded the CD and everybody started tripping and falling down.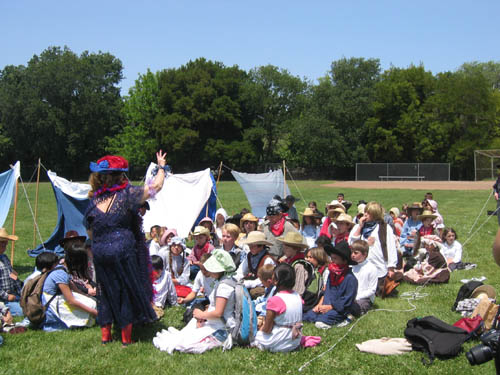 Lola Montez (Mrs. Buckingham) on the "river" directing us to our next stations. The tents around the river were where the old gold miners used to live.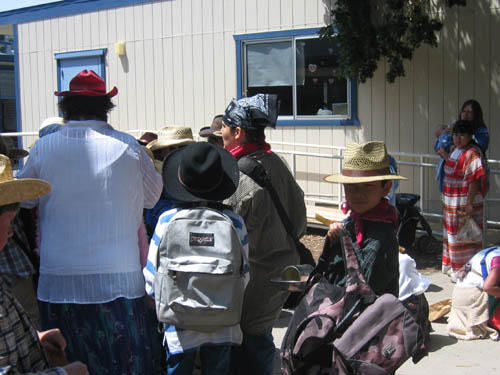 We're in line, ready to eat lunch. Quite a crowd!
Oh yes, we all had fake pioneer names. Dawa was ''Hog-Eatin' Johnson", Kate was ''Clementine'', and I was ''Piano Playing Butterfingers''. I actually played the piano for the whole fourth grade in the end, when we were all singing ''Clementine'' and ''Oh, Susanna''. Everybody cheered me in the end.
Anyways, the gold rush days were fun. But that was not how real people folt in the gold rush. It was very tiring. A miner usually only mined $4-$6 a day, and eggs at that time was $3 each! Usually the entrepueneurs, or people who start their own company, really got rich. Levi Strauss created blue jeans out of tents and earned a fortune. Mr. Stanford owned a supply store and got so much money he created Stanford University. If you were there, what would you be, a prospector or entrepeneur?