My Dad and I made a program that would help remind people to "Take A Break!" after looking at the computer too long. It helps to notify you to give your eyes a break and rest for a while before returning. We worked for about one week on it, and we hope you like it.
If you want to install this fantastic item…
1. Click here to download the program, and save to your machine.
2. Double click the downloaded .zip file, and extract the whole "MyReminder" directory to "C:\".
3. Then go to C:\MyReminder directory, and click "runReminder.bat" and in a second, the Reminder program will pop up. You can "snooze" for certain number of seconds and it will remind you again, or "dismiss" to close the program.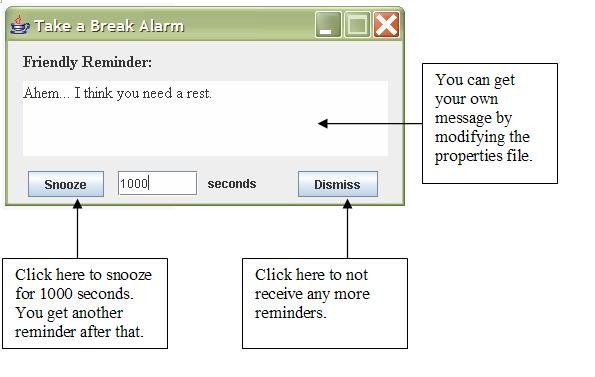 4. You can modify the "alarmConfig_en.properties" under "MyReminder" directory, to display different reminder messages. You can put as many messages as you like, and the reminder program will randomly pick one at a time.
Note: If you want to extract "MyReminder" to somewhere other than "C:\", for example to "C:\temp", then you need to edit "runReminder.bat" under "C:\temp\MyReminder" directory, and modify "-DINSTALL_DIR=" to new directory, such as "-DINSTALL_DIR=C:\temp\MyReminder".
You may rate the product in the comments, on a scale from A++ to F- - or 10(0) pts. to 0 pts.